Weddings (Elopements)
Vow Renewals
Sunrise and Sunset Cruises
Ladies Night Out Harbor Cruise
Ash Scatterings At Sea
"We Welcome Diversity"
"Someday you will find the one who will watch every sunrise with you until the sunset of your life."
- Author Unknown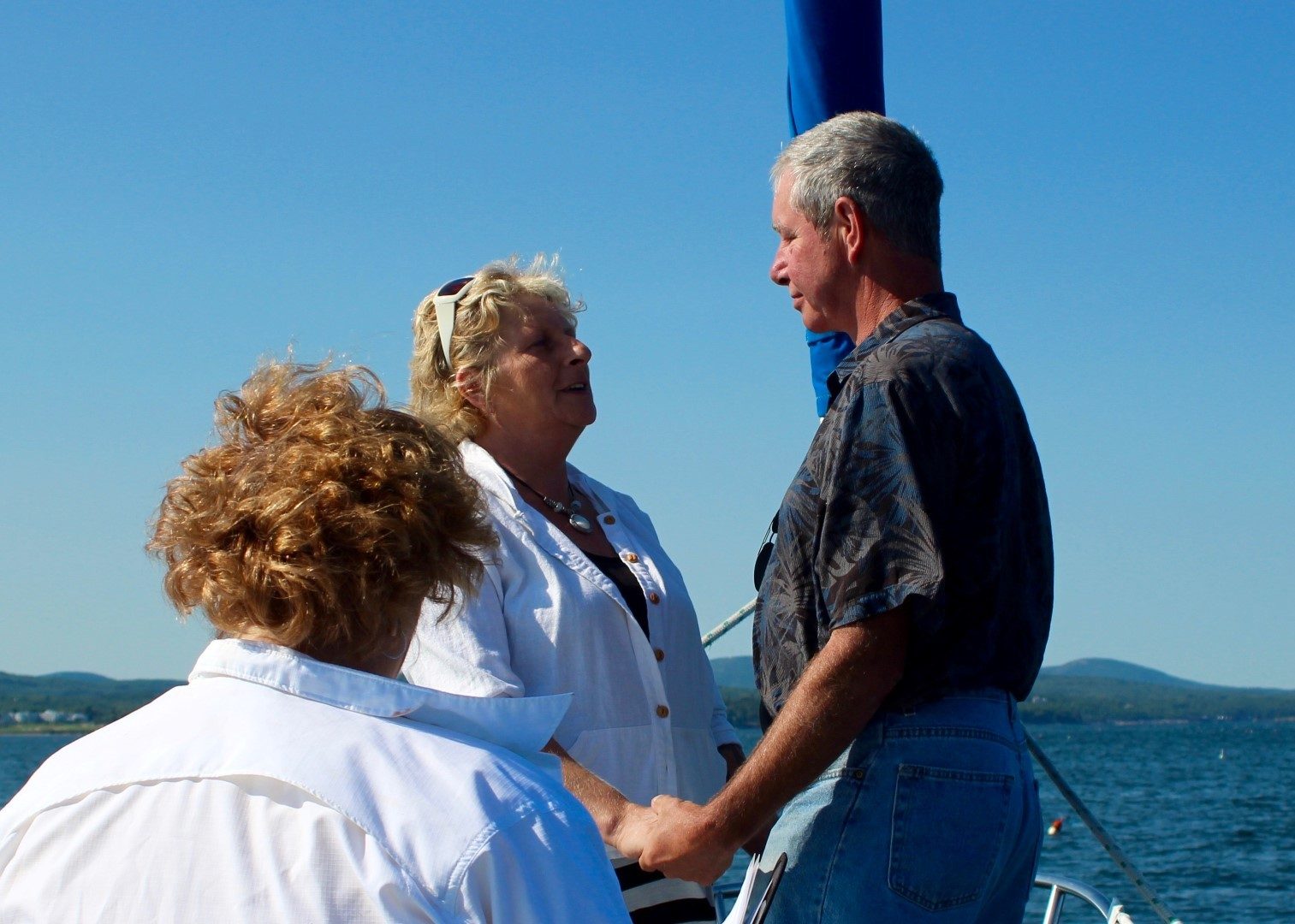 Getting a marriage license in Maine is YOUR Responsibility. You do not need a license to renew your vows.
Persons wishing to be married in the state of Maine must apply for a marriage license from a municipal clerk's office and must be 18 years old to apply. You will need to have a photo ID to obtain the license. If this is not your first marriage you will have to bring a certified copy of the divorce from last spouse or a death certificate. No blood test is required. If neither party is a resident of Maine you can apply at any town office. There is no longer a waiting period and your license will be issued the same day you apply.
Everything you need to know can be found on the Maine.gov website.
We depart mornings and afternoons or early evenings for sunset weddings or cruises. We will motor out to a quiet spot, shut the engine off for the ceremony and when we are through we will put up the sails. The entire proceedings from leaving the dock upon return will be approximately 3 hours.
Cost for your wedding is $395.00 (Max 5 people including Bride and Groom) Call for pricing on engagement and vow renewal charters. Included in the price, a copy of your vows and a chart of the bay marking the latitude and longitude where you said, "I Do."
Reservations are required along with a 25% deposit to secure your cruise. If weather should be deemed unsafe we will give you a rain check for another date, or refund your deposit in full. If you cancel within one week of your charter there will be no refund on your deposit.
Sailing times are subject to change without notice due to weather.
Please wear only white soled shoes, non-marking soles or go barefoot. NO heels of any type on the boat.
© Copyright 2017. All Rights Reserved