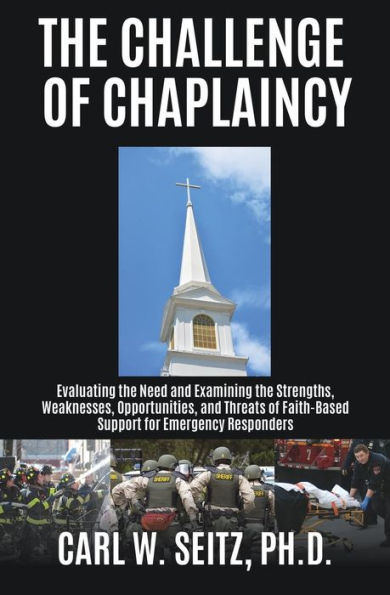 THE CHALLENGE OF CHAPLAINCY
Did you know that 18% to 30% of all firefighters meet the criteria for a diagnosis of Post Traumatic Stress Disorder (PTSD)? Did you know that suicide is the leading cause of death among police officers and that the rate of substance abuse among first responders is over twice that of the general public? These are the very men and women that put their lives on the line for us everyday and yet they themselves are in desperate need of being saved.
In The Challenge of Chaplaincy, Author Carl Seitz presents a thoughtful and well researched assessment of the need for a faith based support system designed to provide help and healing to our nation's first responders. He calls on the local church to come along side their public servants through the local church chaplaincy model and provides a detailed SWOT (strengths, weaknesses, opportunities, and threats) analysis of a chaplaincy ministry aimed at improving effectives and avoiding common pitfalls.
Inside, readers discover the rich faith-based history of chaplains, the struggles—both physical and spiritual—that they face, and the training and ecclesiastical oversight required for an effective ministry. In addition, the author compares and contrasts the current secular approaches to providing care to those in uniform with the kind of care that can only be provided through Christ's love.

Dr. Seitz gives compelling support for the powerful role a chaplain can play in the lives of firefighters, police officers and other emergency response personnel … Leaders in both public safety agencies and Ecclesiastical/Church organizations need to accept the challenge given and heed these powerful words.
- Rev. Chris A. Gibson, M.S., M.Div., D.Min., LPC. – Ministry Essentials International
A must read for all those who have a heart for public safety professionals. Emergency responders view Chaplains as one of us! This makes Chaplains a priceless commodity and an underutilized tool essential in the pursuit to hold onto our faith based beliefs and emotional wellness amid a world of chaos.
- Terry Bykerk and Mike Wierenga – Police Officers and Owners of Two the Rescue LLC
Chaplains are a "must-have" in today's society. As faith-based non-denominational counselors, they offer public safety professionals the opportunity to truly feel God's love in their time of need. Dr. Seitz is a valued and respected chaplain and his experience and insight within these pages are spot on and well written. Dr. Seitz clearly depicts the importance of a ministry of presence specifically as a public safety chaplain.
- Richard T. Hess, DDCS - President, Chaplain Fellowship Ministries International
Emergency Service Chaplains play a key role in the work of our heavenly Father as they minister to those in some of the hardest careers. Dr. Seitz has such a calling for this great ministry and you can see that in this book. It is a must-read for all chaplains and church leaders serving in a world that desperately needs a Savior like our God!
- Henry Reyenga and Abby Reyenga, President and Vision Partner Director at Christian Leadership Institute.