Each and every day is a gift from Creator. However, not every day will be full of
light and happiness. When life begins to feel like a burden, it may be time to seek
help. This does not mean that you have failed but seeking assistance may bring perspective, balance, and healing back into your life.
As a practitioner of many healing modalities, I can assist you in your healing process and help you reach the next level of spiritual awareness and understanding.
NAMASTE!
Medicine Wheel, discovered globally, have been found in many cultures. They have been used to bring people together in wholeness of body, mind, spirit. Since medicine wheels were also used as place of healing, Dr. Stec's vision was to create a portable medicine wheel as a healing blanket. Medicine wheels create energy vortexes that may help the physical and the spiritual body...
Hypnosis is a change in our mental awareness in which our critical "conscious" mind becomes distracted. This allows our subconscious mind to be directly receptive to suggestions. These suggestions can change the stored patterns which cause our behavior and our physical responses. These are changes that we find so difficult or even impossible to achieve in our...
Readings and Channeling Sessions
(in person, phone, or Skype)
Available for groups: schedule a party in your home or store
Counseling Sessions
Life Coaching
Energy Healing/Therapy
Classes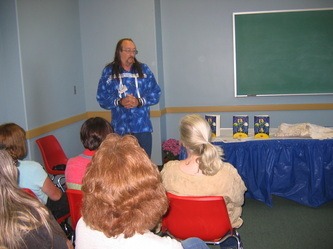 With over 35 years of experience, Dr. Stec has trained and worked with individuals from around the world.
His education includes: parapsychology, metaphysics, theology, hypnotherapy, reiki, and shamanic studies.
Many near-death experiences have enhanced his abilities to channel and to utilize healing energies. As a healer,
he is a Medicine Wheel Practitioner/Master Teacher, Hypnotherapist/Certified Instructor, Reiki Practitioner/Master
Teacher (Usui, Karuna, Egyptian, Angel) and the creator of Medicine Wheel Reiki.
In addition, Dr. Stec is the author of "Indigenous Medicine Wheel of All People (Four and Eight Spoke)".
His birth heritage is Navajo, German Jew and Scot.
WHOLE LIFE EXPO - May 31 - Jun 2 in Schaumburg, IL.
Will accept all major credit cards