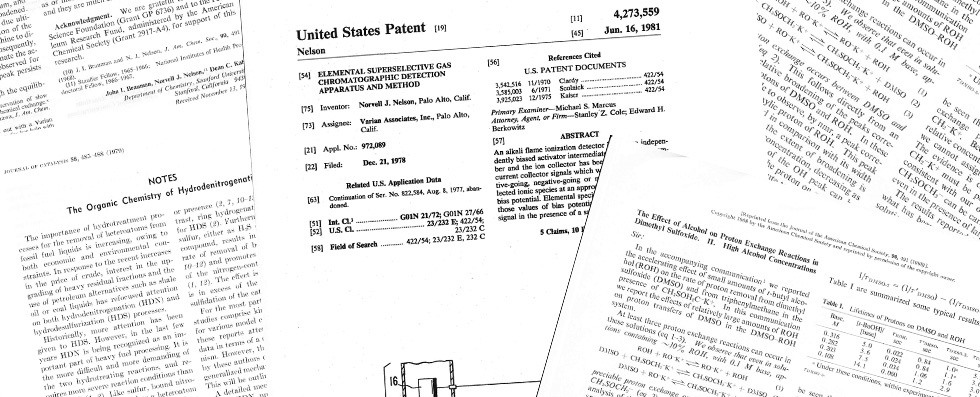 NORVELL NELSON, P

H

D

AUTHOR & INVENTOR

 
Norvell Nelson is an accomplished technical writer, a multi-faceted technologist and a versatile and resourceful inventor. He is an author of 16 scientific papers and an inventor on 18 patents. The subject materials of these documents encompass a diversity of technologies including: organic chemistry; inorganic chemistry; chemical instrumentation; chemical catalysis; CleanTech energy processes; and leading-edge semiconductor device fabrication.
Norvell has been functioning as a process analyst and technical writer for the past eight years as the Chief Technology Officer for Longbow Technology Ventures, where he was responsible for the technical evaluation of the many and diverse proposals submitted to Longbow for investment. The work required that Norvell provide the investment committee with accurate assessments of the proposed technologies and to identify those which were deemed of sufficient technical merit and interest to warrant a more detailed analysis prior to making any investment decision. While the proposals he evaluated were primarily, though not exclusively, from energy technology companies, the methodologies he used are broadly applicable to any sector.
Norvell is available to put his expansive experience to work for you, helping you to conceptualize your technical projects with cogent and coherent narratives developed with his unique ability to accurately synthesize and simplify highly complex subjects into readily understandable text — even for the non-technical reader.
Read more about Norvell on his LinkedIn page at: www.linkedin.com/in/norvell-nelson/
List of Patents & Papers (PDF)